Life is fun when you have a lot of things going on. Until they clash, that is.
I had three big-deal papers due Friday. Moreover, on Monday my boss told me I had to produce a decent report on the ball game on Wednesday, meaning that I had to go to the game and then waste the night away typing up the report. So, Thursday was out. Cherry on top – my GF's birthday was on Friday as well. I mean, I'm pretty good at juggling priorities but this time they had me. I had to do something with those three papers, and soon. I talked my professor into giving me an extension on the first one, and typed up the second one without stopping (it was a marketing report on advertising in sports, love this kind of stuff).
And then I was left face-to-face with this 5-page monster. My professor wanted a marketing plan for launching a "bottled water company". Bo-ring.
I honestly tried to write it myself. I mean, I know how papers like that should be done. But I almost broke my jaw yawning when I was listing my potential competing brands. Felt like I was rewriting names off the shelf in a fridge in a stupid Wal-Mart. No, seriously. After trying to write at least a decent mission statement for my revolutionary water business, I felt I hit the wall. Like, a writer's block, no ideas, no thoughts. Nothing. And then I panicked. I only had three days left before handing the paper in, and, in reality, I had one day to get it done, and this day was today, and I had written nothing. I would literally pay someone to write my paper.
So, well, I googled it. After going through websites that looked like they were designed in 1990s, and websites with tons of stock photos that did not even look credible, I stumbled upon Geekly Lab (https://geeklylab.com/). In a nutshell, GeeklyLab.com is a service that, using some super-geekly algorithm, matches your college project to the right Geek that works with them as a freelancer. All I had to do was fill in a small form on their homepage, sign up, and fill in a longer form to describe my request in detail. I was happy they did not ask for my phone number or did not take my order through email or some other way: one, I hate giving my phone number to anyone online, and two, I had to make sure they got my instructions right. Of course, the website asked for prepayment because that's how any commercial website works but GeeklyLab surprised me even more: they trusted me to pre-pay only 30% and pay the rest when my Geek was done. Fabs.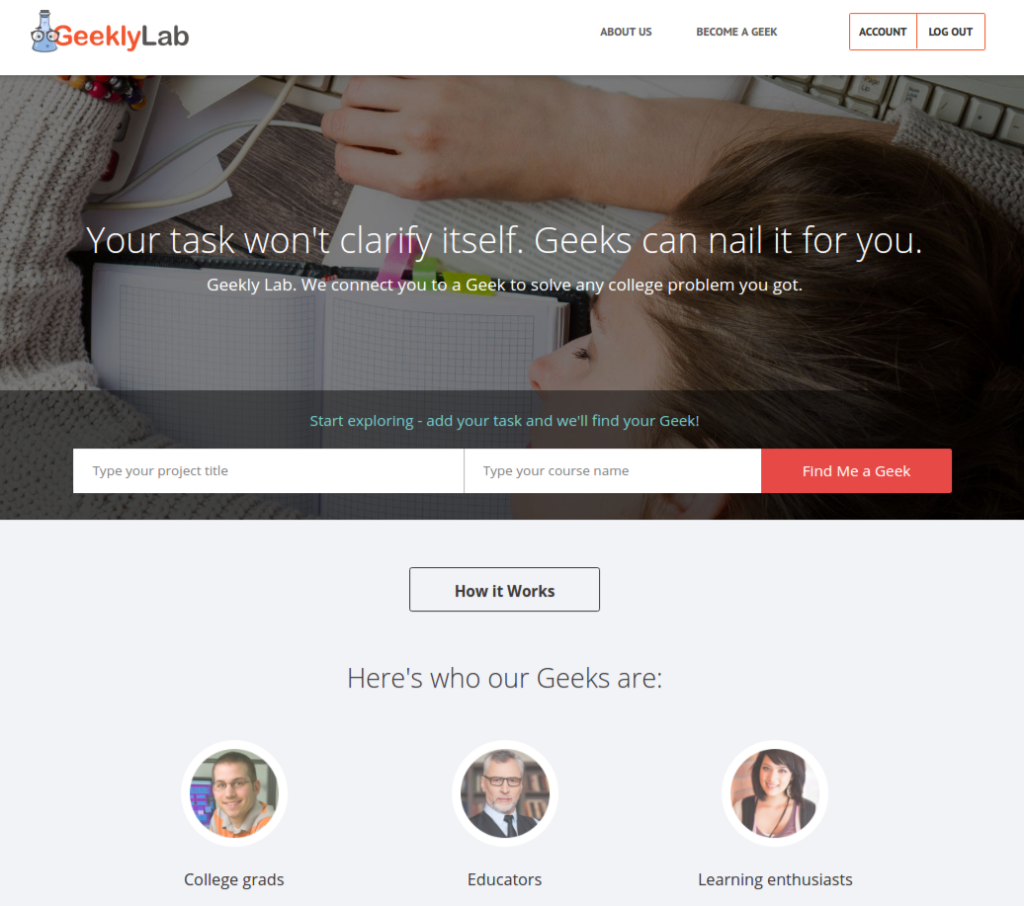 Of course, after I paid I actually chatted with a customer service rep in my account. I found a clear explanation of how the price is formed on their website so I wasn't confused about prices. I sent them like 5 messages to make sure they will find me a Geek, and also to make sure that if I wanted the paper to be fixed (as a freelance journalist and blogger I'm a decent writer myself haha), the Geek will follow my demands. Anyway, they found me a Geek within a couple hours. I was relieved: I could do my work, and pick out a present for my darling, and all of that without having a 5-page paper hanging over me.
When my paper was ready, they sent me an email that I could download it from my personal account at GeeklyLab.com. I paid the remaining part, and sat down to read and edit my paper on Thursday. I was tired after a sleepless night, and I didn't want to go through any editing, I thought, que sera sera, whatever they sent me will do.
And then I was amazed.
The Geek composed a great marketing plan. It had graphs and industry analysis. It had a thoroughly-executed market analysis. It had going-forward projections and strategy. It was solid. I checked all the references, and fixed a couple typos, and then went to bed relieved.
To sum up, my experience with GeeklyLab was great. I got an A for my paper, and it was definitely worth the money I paid for it. Yet, now that I think of it, I think their service could become more amazing. This is how:
They could add an actual pricing page to their website;
Also, it would be neat if they offered discounts to returning customers.
Did you guys ever get into a situation like mine? What did you do? Have you ever tried GeeklyLab?